Description
Hochwertige Bauchtasche im klassischen & minimalistischen Design aus langlebigen & nachhaltigen Materialien.
In unserem Atelier im Breisgau entwickelt & genäht
100% fair in Deutschland hergestellt
Langlebiges Hauptmaterial X-Pac X11 – Kombination aus nachhaltiger Bio-Baumwolle und recyceltem Polyester
Großes Hauptfach fasst circa 3 Liter
Wertsachenfach mit Reißverschluss auf Rückseite
Großes, zweigeteiltes Innenfach
Qualitäts Zipper von YKK
innenliegender Schlüsselclip
stark wasserabweisend, da aus wasserdichtem Material gefertigt (nicht wasserdicht)
haltbares Gurtband und sicherer Duraflex Verschluss
Viel Platz für 0,5 Liter Trinkflasche, Smartphone, Geldbörse, Kopfhörer, Schlüssel, faltbarer Regenschirm, Kleinkram, etc.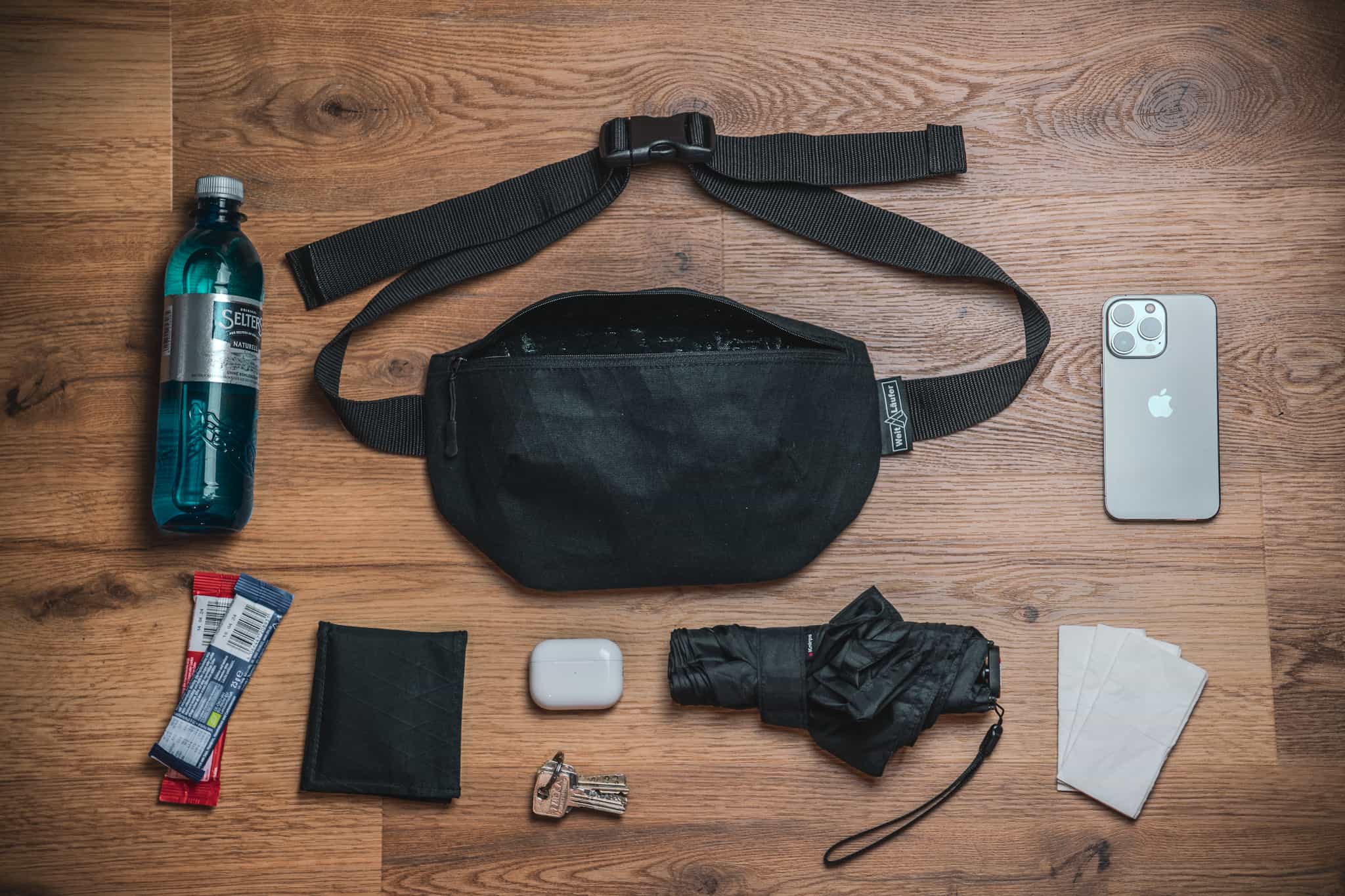 In die große Bauchtasche, oder auch Hip Bag oder Bum Bag, im klassischen Schnitt passt viel für den alltäglichen Gebrauch hinein. Ob Crossbody oder um die Hüfte getragen, die WeitLäufer Bauchtasche Purist lässt gleichermaßen im Outdoor- und Urbanen Umfeld verwenden.  Wertsachen lassen sich ideal im hinteren Zipperfach verstauen. Alles andere geht vorne rein. Kleine Dinge in die Innentaschen, große ins Hauptfach.
Sie eignet sich auch hervorragend als Ergänzung zu einem Agilist oder Minimalist beim Wandern und Trekking. Gerade vor dem Bauch getragen kann die Purist Tasche alle Dinge beherbergen, die während der Tour schnell und einfach erreichbar sein sollen.
Materialien & Details der Purist Bauchtasche
Weight:
144 g
Dimensions (width x height x depth)
30 x 17 x 8 cm
Webbing width:
40 mm
Main material:
X-Pac X11  – 83% Baumwolle, 17% Polyester


100% klimaneutral hergestellt und aus nachhaltiger Bio-Baumwolle

Webbing:
Polypropylene
Zipper:
YKK 3C
If you are looking for further information on the material used, you will find detailed answers in the Weitläufermaterial lexicon.
Wodurch ist die Purist Bauchtasche nachhaltig?
The development of the patterns, the production of the prototypes, the procurement of materials and the series production of the final fanny packs all take place at our WeitLäufer studio in Breisgau near Emmendingen. We combine traditional craftsmanship with contemporary development methods and modern machines in production.
We do not relocate production to Asia or other EU countries. We deliberately want to manufacture the bags close to the customer in order to keep transportation routes short, create transparency and promote craftsmanship. We also use either recycled polyester materials or fabrics made from organic cotton wherever possible. Where this is not yet feasible, we always use high-quality and durable textiles, straps and buckles to keep wear and tear to a minimum.
Entwicklung, Prototyping & Produktion der Purist Bauchtasche bei uns im WeitLäufer Atelier
Wie wird die Bauschtasche produziert?
---